Latest Missogyny.com Updates
Cherry Torn & MISSogyny
January 15, 2014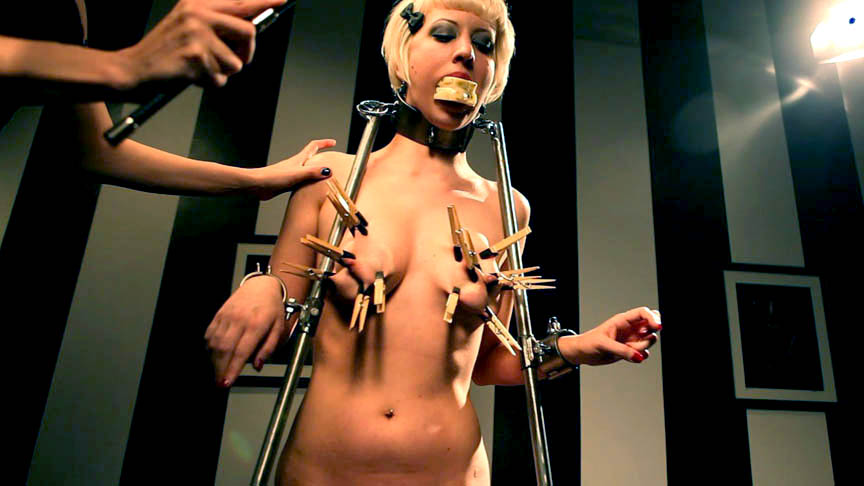 Cherry Torn once again presents herself to Mistress MISSogyny for punishment and slave training, and the Mistress rembers Cherrys lithe body and juicy ass and is eager to once again inflict punishment and torment of this willing and eager submissive slut. Cherry is rigged in a standing position: two long steel pipes are rigged to a dog collar and then they run down to the floor. Wrist and ankle restraints are attached to the pipe so Cherry can shuffle a little but has no real freedom. MISSogyny uses her helplessness to torment her exposed nipples, pinching them with clothespins and then mercilessly spanking them with a riding crop until Cherry is screaming through her gag. Cherry also expresses a desire for spanking, and Mistress sees her big juicy bubble butt and unleashes hell with her flogger and bare hand. Cherrys ass is hot and glowing red after her corporal punishment spanking...this device bondage video will definitely give you new ideas for when you clean out your garage.
Sophia Elly & MISSogyny
January 8, 2014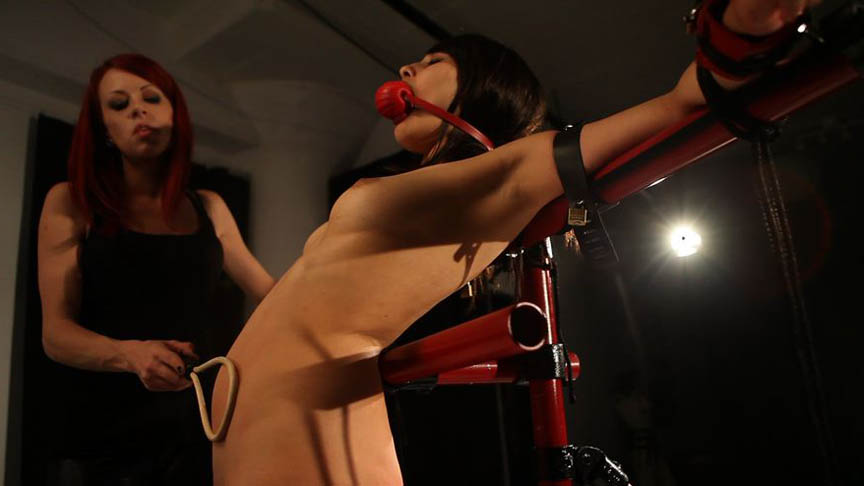 Sophia Elly is the latest first-timer to be sent to Mistress MISSogyny for discipline and slave training. This young, wanna be seductress is convinced that smoking will make her sexier and more attractive, and she lights up compulsively despite numerous warnings. Mistress MISSogyny eagerly awaits the arrival of her new slave-in-training...Sophia is stripped naked revealing buxom curves, a ripe ass and a perfectly shaved pussy. MISSogyny is focused on hard corporal punishment, and she locks Sophia in a standing position, arms spread wide and legs apart. MISSogyny lashes her slave with a leather flogger, cruelly whipping her breasts, stomach, pussy and thighs, but that is not nearly enough. Sophia also gets the full strength of her Mistresss hand, a paddle and a rug beater. There is no stopping MISSogyny, and she adds nipple torment to Sophias training and then applies a high speed magic wand vibrator to her pussy to overwhelm her senses while she endures her harsh lezdom corporal punishment.
Mariah, Mistress Indigo & MISSogyny
January 1, 2014
Sophia Elly is welcomed back for her second journey through Mistress MISSogynys device bondage dungeon, and she dressed extra sexy for the occasion. She is wearing mouthwatering red panties over top of sexy sheer suspender hose. Mistress MISSogyny sees through her transparent attempt at acting like the demure innocent, and the punishment begins. Sophia is bent over the knee of her mistress and given a hard bare handed spanking. The corporal punishment whets MISSogynys appetite for masochism and soon the deviant whore slave is led to the device bondage chamber. Sophia is laid on her back on a wide examination table and she is locked in place at the waist, ankles and wrists. Her cute panties and stockings are long gone, and Mistress works at disciplining her for her pride and vanity. Sophias nipples are clamped with clothespins and pulled painfully in the air by a taut string; Mistress MISSogyny also pinches clothespins between her toes and snaps the soles of her feet with elastic bands! Her creative cruelty knows no bounds! Sophia is reduced to begging for mercy from her Mistress after the painful Lesbian Bondage punishment session.
Latest Missogyny.com Updates