Latest Missogyny.com Updates
Krysta, Ladie, & MISSogyny!
March 26, 2014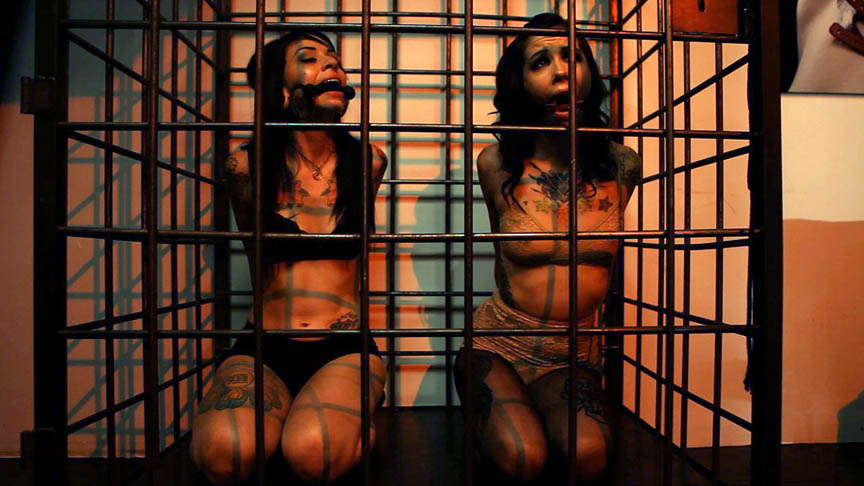 Mistress MISSogyny welcomes back two of her most adoring bondage sub slaves to the dungeon: Krysta Kaos and Ladie Lane return to do the bidding of their mistress and try to please her. Mistress MISSogyny is not easily impressed, although this pair of tattooed sluts did earn a modicum of admiration from her their first time in the dungeon, and the mistress feel like more corporal punishment would benefit these lazy tramps. While Mistress readies their punishment devices, Krysta and Ladie are tied in a kneeling position and left to wait and ponder the coming pain in a tiny cage. Soon Mistress MISSogyny returns and leads them to the dungeon and the two submissive sluts are locked in a 69 position where MISSogyny is free to fuck them and punish them at her whim. Krysta takes a terrific spanking across her ass, leaving it red and swollen, it is throbbing with pain. Ladie gets her pussy spanked and fucked with Mistresss fingers and then her pulsating magic wand vibrator. waves of pain and pleasure crash down over her it looks like the tattooed bondage waif might be overcome. But Mistress will not let her retire so easily. The pain and limb twisting keeps coming until both sluts are worshipping at MISSogynys feet.
Misti Dawn & MISSogyny
March 19, 2014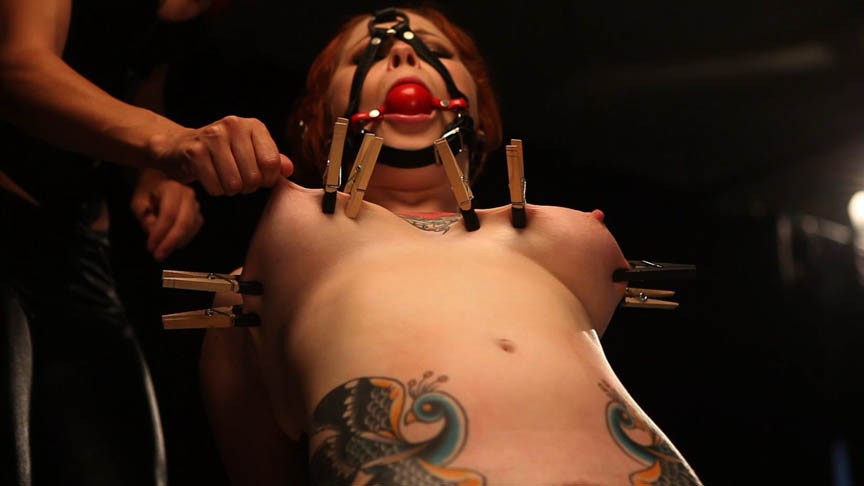 Misti Dawn is one of those nerdy geek girls popping up everywhere, crossing over between comix/scifi fans and hardcore porn. She has it all...the natural body and quirky smile, sexy librarian glasses and a body covered with sexy old school tattoos. It's no wonder that she has legions of fanboys (and fangirls) following her on twitter, facebook and tumblr. She recently cut a promo for the Spike TVs video Gaming awards, and she played opposite of Elijah Wood in an internet short called "The Death and Return of Super Man?. There's no man of steel to save her from the clutches of MISSogyny in this clip however, and the brassy ginger gets spanked without mercy, and then gagged and restrained on a standing position, allowing Mistress to flog her pussy, tits and tummy savagely. MISSogyny toys with her pussy, edging her to orgasm repeatedly and then pulling away, leaving Misti suffering and frustrated, all the while slapping her hard in the face and across the tits for her bratty whining. Device Bondage and nerdy porn girl crossovers do not get better than this one.
Sarah Shevon & MISSogyny
March 12, 2014
Mistress MISSogyny is very happy to welcome Sarah Shevon back to her dungeon for more lezdom device bondage. The pair got along so much during their first session, MISSogyny could not wait to get this brunette pain slut back on the rack. And Sarahs pussy was juicy at the thought of being locked up in the dungeon and punished by her new gorgeous Mistress. MISSogyny starts Sarah off in a painful and uncomfortable frog tie, compelling her onto her elbows and knees while MISSogyny gropes her bare ass and shaved pussy, spanking her with a bare hand and roping her high heels and yanking them backwards to make Sarah cry out in pain from the leverage and pressure. Sarah is released from the frogtie but then locked in place on her hands and knees, and MISSogyny works her pussy like a piece of meat, tenderizing it with a vibrator and pounding it with a flogger. She yanks back on Sarahs hair until she is trembling with pain. Sarah cannot decide which trip to the dungeon was a better time, but she is willing to keep coming for more hot lezdom device bondage.
Sarah Shevon & MISSogyny
March 5, 2014
Mistress MISSogyny loves it when her play partners love device bondage as much as she does. Her prayers are answered when Sarah Shevon agrees to spend the day with her in the dungeon. Sarah is a big device bondage fan, and she has loved her role as a sub in videos for the most popular bondage sites on the web. She explains that device bondage gives you the feeling of being completely trapped, with no room to move or even wiggle. Mistress MISSogyny demonstrates her prowess at lesbian device bondage, locking Sarah in position, arched backwards and unable to move her legs or her arms. There, MISSogyny toys with her, spanking her pussy, tormenting her nipples and prying her mouth open with a modified spider gag. Sarah struggles and tries to comply with her mistresss wishes, but MISSogyny is still not satisfied with her performance. She thrusts her magic wand vibrator against her slaves pussy to overwhelm her with orgasmic pleasure while pain shoots throughout the rest of her body.
Tori Lux & MISSogyny
February 26, 2014
Tori Lux is fast becoming one of Mistress MISSogynys favourite pain sluts. The sub pig loves pain and restraint and gets off on the total loss of freedom of movement in device bondage. MISSogyny locks her in a sitting position with her arms and legs splayed wide, allowing easy access to Toris upturned ass and big, puffy pussy. Mistress MISSogyny relishes her time in the dungeon with Tori, spanking and whipping her tender pussy, watching the lips become red and sensitive with pain and arousal. After spanking her ass and punishing her labia, MISSogyny allows Tori free use of her hands but only to fuck herself with a huge dildo and vibrator. Tori the slut does not disappoint, ramming the dildo into her pussy like a jackhammer and pounding out a thunderous orgasm. MISSogyny then rams her fist into Toris juicy pussy, declaring it her property and for her use only. This Lezdom bondage mistress has just claimed another prize in the device dungeon.
Tori Lux & MISSogyny
February 19, 2014
Tori Lux keeps proving her usefulness to Mistress MISSogyny as a submissive slut and dungeon test subject. She has a tremendous appetite for pain and punishment, and her willingness to accept discipline puts her in the top of Mistress MISSogynys class. During her session in this video, Mistress has a set of stocks she has been dying to play with and she wanted dear, sweet Tori to be the first to try out. The stocks are inverted however, and the punishee is locked in at the wrists and ankles with a large space for the ass to protrude instead of the head. So Tori finds herself on her knees, bent over until her face is also planted on the floor with her hands and feet locked into the stocks and her bare ass nakedly on display for Mistress MISSogyny to play with and abuse. And abuse she does. She spanks and flogs Toris sweet ass until it is red and glistening with pain and then she buzzes her pussy with a magic wand until she is on the brink of orgasm. Finally Mistress frees Tori from the stocks, only to tie her upright and continue the punishment. Device bondage of this quality knows no restraints.
Ela Darling & MISSogyny
February 12, 2014
This lesbian bondage video is one of the few on the site that puts humiliation and degradation of the sub at the forefront. While MISSogyny is keen to call her submissive subs sluts and harlots, she keeps it at a certain level of decorum...in a sense, they are kindred spirits and they belong to a closely knit collective of lesbian bondage adherents. This session with Ela Darling however shows a darker side to Mistress MISSogyny, one keen on exposing her sub as something inferior and worthy of extra cruel treatment. Mistress demonstrates that early, struggling with Ela and inserting a custom made gag into her mouth. The gag is fixed with a scrub brush and MISSogyny orders her weaker sibling to scrub the floor clean with her brush. All the while Ela struggles and MISSogyny whips her backside. Soon, MISSogyny tires of this humiliating exercise and locks Ela into an excruciating position: hands planted on the floor, waist bent double and feet locked in position, giving Ela just a little freedom to bend her knees, but always compelling her to stay on her feet. Under her, MISSogyny rigs a vibrator, so whenever she tires, she can only dip a little bit and then the high speed head is working on her clit. After unreal domination and punishment, MISSogyny lets Ela have a break from the vibrator but only if she agrees to the pounding pussy punishment of a brutal fucksaw. Talk about a brutal choice.
Ela Darling & MISSogyny
February 5, 2014
Ela Darling is a real life librarian -- the sexy, naughty kind you fantasize about. This nerdy bookworm has a huge appetite for kink, and she found herself unable to refuse the invitation to Mistress MISSogynys dungeon to catalog her collection of torment implements and slave training devices. MISSogyny ties the lovely Ela to a wire fence and strips her naked, exposing her perky A-cup tits and hidden sexy tattoos. Ela is made to bite down on the handle of one of Mistresss floggers while MISSogyny rips of her pantyhose and fondles her pussy. Ela gets a painful flogging across her tits and pussy, and then MISSogyny leads her to a new painful device bondage station: Ela is strapped down on her stomach, her ass is propped way up in the air and her ankles, wrists and neck are locked into place. She has a little wiggle room, but only enough to let her shake and thrash as Mistress MISSogyny flogs her and zaps her with a cattle prod. Ela receives a painful lesson in device bondage and lesbian domination in this hot video.
Sasha Knox & MISSogyny
January 29, 2014
Sasha Knox is addicted to Mistress MISSogynys deft hand and skill at erotic Lezdom device torment. After getting her ass and pussy totally dominated her first time in Mistress,s dungeon, Sashas slave training today is going to focus on nipple torment. MISSogyny restrains Sasha arched backwards, her feet trapped underneath her and her perky natural tits pointing up at the ceiling. MISSogyny takes her time teasing her chubby blonde submissive...pinching her tender breast with clothespins, slapping at her pussy, the pain gets incredibly intense and Sasha screams and scream every time a new clamp pinches her body or whenever Mistress lashes her with her leather whip. Missogyny sets up a magic wand right against Sashas tender clit and lets it run until Sasha is nearly overcome with orgasmic sensations. She is about to cum over and over and she keeps screaming every time a clothespin is ripped off her flesh. This Lesbian bondage torment scene is meant to be savoured.
Cherry Torn & MISSogyny
January 22, 2014
Cherry Torn is no stranger to device bondage lovers on the internet...her talents as a bondage sub have been on display on the best known and highest rated BDSM sites, and her reputation for being a pain loving slut earned her an invitation to play in Mistress MISSogynys discipline dungeon. After some pleasant small talk revealing Cherry to be a bubbly girlie girl with a real love for bondage submission, MISSogyny gets her prepped on the exam table. Today, it is going to be all about Cherrys ass, and she is locked into position, head down, ass up, feet and hands tied together to allow no movement. MISSogyny alternates between whipping Cherrys pussy and fucking it with a fucksaw. After a great deal of vaginal punishment, MISSogyny gets the idea that Cherry needs a cool down and she starts plying her pussy and the soles of her feet with ice. Cherry is soon trembling with cold, and MISSogyny will not relent. She stuffs Cherry mouth full of ice and makes her hold it until she nearly gags. Cherry looks like a zombie when she's finally released from her hellish punishment in the device bondage dungeon.
Latest Missogyny.com Updates