Latest Missogyny.com Updates
Sasha Knox & MISSogyny
April 30, 2014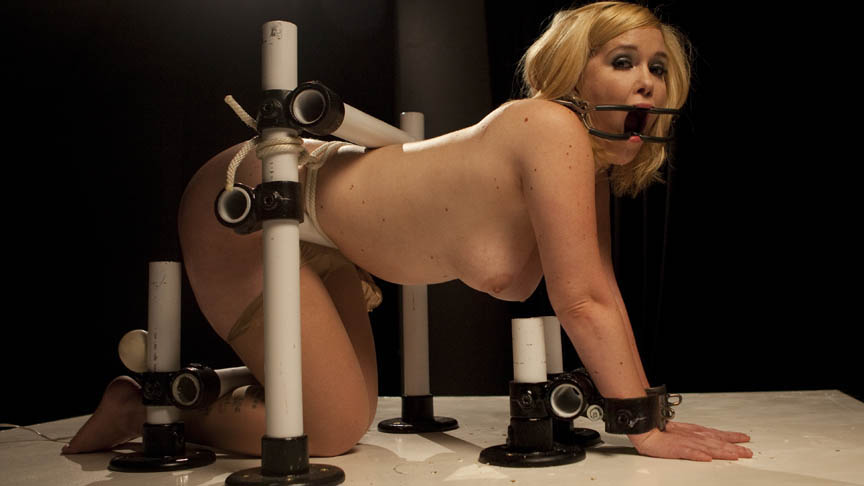 Sasha Knox loves getting punished and disciplined -- according to her, it takes up a lot of her time. Mistress MISSogyny loves meeting new girls who think they are totally down with the pain and submissiveness and then taking it to whole deeper, darker level. This blonde beauty knows right away she is in for a dark experience when Mistress gives her a good slap in the mouth for back-talking before she straps the gag over her blabbering mouth. Mistress MISSogynys focus for the day is on Sashas big round bubble butt. She locks Sasha down on the exam table, on her hands and knees, restraints at her wrists, ankles and waist. This submissive slut is not going to run anywhere. MISSogyny asks Sasha if she considers herself an impact player -- does she love getting spanked and whipped. Her reply was not convincing and MISSogyny unleashed hell with her leather flogger on Sashas ass and unprotected pussy. Mistress then gives her blonde bottom a treat and uses her vibrator to draw out several raw, hard orgasms from her trapped little animal. This video is a hot showcase of determined device bondage and lezdom pussy punishment.
Misti Dawn & MISSogyny
April 23, 2014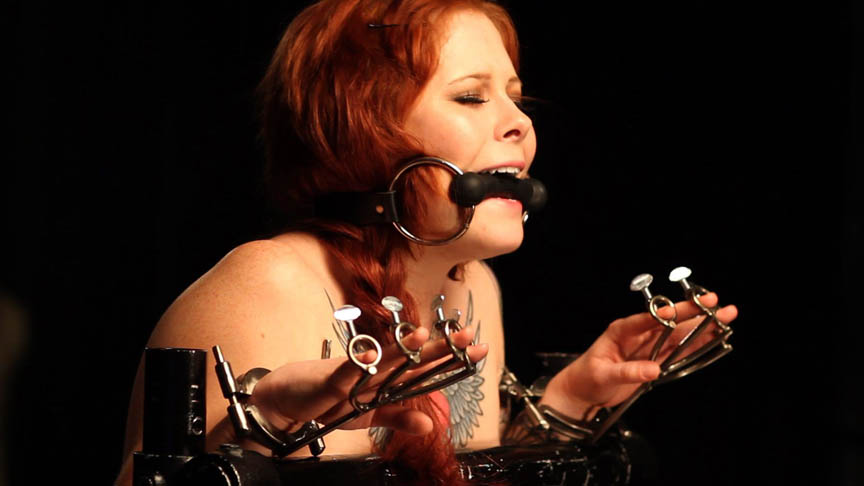 Misti Dawn is a cut little geek girl who loves to explore her wild fetish side. She is making a return to MISSogynys playroom for discipline and lezdom slave training. The video gives you a great look at her natural breasts and fiery red hair along with her bubble butt and array of sexy tattoos. Misti is tattooed all over in the New "Old School" style, and she shows off her innocence with a sacred heart emblazoned across her chest. Mistress MISSogyny starts training Misti by spanking her plump ass with a leather strap and then punishing her with a calisthenics routine. Misti must count off the squats, pushups and lunges before Mistress increases the intensity, zapping her with a cattle prod and then clamping her tits in a vise and then whipping her defenceless body with a flogger. Misti gets even more pain when MISSogyny clamps pincers onto her labia and starts twisting them to reduce her red haired slave to screaming in agony.
Tori, Aria, & MISSogyny
April 16, 2014
Mistress MISSogyny is extremely fond of playing favourites when she has two girls in her device bondage dungeon, and Tori Lux has subbed for Mistress solo on a number of occasions and she falsely assumed that she might be shown a little mercy as teachers pet in this session with Aria Aspen. And that assumption allowed Mistress MISSogyny an opportunity to toy with Tori even more than usual in the dungeon. The sluts are both led to the chamber and they endure hard corporal punishment -- MISSogyny uses her favourite leather strap to punish their asses and give them a hot glistening shine. The girls are then laid out on the exam table and their legs are frog-tied -- knees bent, ankles secured to the thigh with a tight leather belt. Then their wrists are chained above their heads and they are gagged. MISSogyny lords over them, whipping their tender helpless pussies, making each of the agonized twats spit out their please of submission and everlasting devotion.
Tori & Aria & MISSogyny
April 9, 2014
Tori Lux and Aria Aspen are a pair of sexy suicide girls, punk babes with hot body piercings, tattoos and snarling bad attitudes. Given the choice, they might choose to kick the crap out of you or fuck your brains out, depending on their mood swings. Mistress MISSogyny loves getting these kinds of rebellious girls into her dungeon and training them to be loyal bitches obedient to her. She starts by getting her bitches-in-training bent over to receive a hard lashing with her leather strap. Tori and Aria moan and squeal each time the leather lash stings their bubble butts. MISSogyny has more lezdom hell in store for them, and their training moves into terrifying device bondage. The suicide girl sluts are bolted and clamped into painful positions and MISSogyny takes full advantage of their exposed holes; she fucks Tori and Aria with massive dildos before hurting their flesh with nipple clamps and clothespins. Aria and Tori are reduced to grovelling bitches begging for more punishment by the end of their ordeal.
Krysta Kaos & MISSogyny
April 2, 2014
Mistress MISSogyny has the pleasure of hosting two new lovely sluts in her dungeon for more extreme device bondage salve training. And these girls need the discipline. Krysta Kaos has mad a career out of being a bad girl, and she has appeared on some of the most hardcore bondage and humiliation sites out there to show off how much abuse she can tolerate. Ladie Lane is much more of a wannabe -- she is tattooed and she has worked as a fetish model, showing off her Amy Winehouse body while eye-fucking the camera. Mistress is going to wring the pretensions out of these sluts in her dungeon today. The tattooed sluts are laid out on their backs and their legs are bent backwards above their heads and locked in the air at the ankle. The slave bitches are laid head to head and their wrists are shackled together. Their asses are in the air and their delicious pussies are helpless...Mistress MISSogyny has these whimpers sluts in her device bondage web where her whim is also a terrifying command!
Krysta, Ladie, & MISSogyny!
March 26, 2014
Mistress MISSogyny welcomes back two of her most adoring bondage sub slaves to the dungeon: Krysta Kaos and Ladie Lane return to do the bidding of their mistress and try to please her. Mistress MISSogyny is not easily impressed, although this pair of tattooed sluts did earn a modicum of admiration from her their first time in the dungeon, and the mistress feel like more corporal punishment would benefit these lazy tramps. While Mistress readies their punishment devices, Krysta and Ladie are tied in a kneeling position and left to wait and ponder the coming pain in a tiny cage. Soon Mistress MISSogyny returns and leads them to the dungeon and the two submissive sluts are locked in a 69 position where MISSogyny is free to fuck them and punish them at her whim. Krysta takes a terrific spanking across her ass, leaving it red and swollen, it is throbbing with pain. Ladie gets her pussy spanked and fucked with Mistresss fingers and then her pulsating magic wand vibrator. waves of pain and pleasure crash down over her it looks like the tattooed bondage waif might be overcome. But Mistress will not let her retire so easily. The pain and limb twisting keeps coming until both sluts are worshipping at MISSogynys feet.
Misti Dawn & MISSogyny
March 19, 2014
Misti Dawn is one of those nerdy geek girls popping up everywhere, crossing over between comix/scifi fans and hardcore porn. She has it all...the natural body and quirky smile, sexy librarian glasses and a body covered with sexy old school tattoos. It's no wonder that she has legions of fanboys (and fangirls) following her on twitter, facebook and tumblr. She recently cut a promo for the Spike TVs video Gaming awards, and she played opposite of Elijah Wood in an internet short called "The Death and Return of Super Man?. There's no man of steel to save her from the clutches of MISSogyny in this clip however, and the brassy ginger gets spanked without mercy, and then gagged and restrained on a standing position, allowing Mistress to flog her pussy, tits and tummy savagely. MISSogyny toys with her pussy, edging her to orgasm repeatedly and then pulling away, leaving Misti suffering and frustrated, all the while slapping her hard in the face and across the tits for her bratty whining. Device Bondage and nerdy porn girl crossovers do not get better than this one.
Sarah Shevon & MISSogyny
March 12, 2014
Mistress MISSogyny is very happy to welcome Sarah Shevon back to her dungeon for more lezdom device bondage. The pair got along so much during their first session, MISSogyny could not wait to get this brunette pain slut back on the rack. And Sarahs pussy was juicy at the thought of being locked up in the dungeon and punished by her new gorgeous Mistress. MISSogyny starts Sarah off in a painful and uncomfortable frog tie, compelling her onto her elbows and knees while MISSogyny gropes her bare ass and shaved pussy, spanking her with a bare hand and roping her high heels and yanking them backwards to make Sarah cry out in pain from the leverage and pressure. Sarah is released from the frogtie but then locked in place on her hands and knees, and MISSogyny works her pussy like a piece of meat, tenderizing it with a vibrator and pounding it with a flogger. She yanks back on Sarahs hair until she is trembling with pain. Sarah cannot decide which trip to the dungeon was a better time, but she is willing to keep coming for more hot lezdom device bondage.
Sarah Shevon & MISSogyny
March 5, 2014
Mistress MISSogyny loves it when her play partners love device bondage as much as she does. Her prayers are answered when Sarah Shevon agrees to spend the day with her in the dungeon. Sarah is a big device bondage fan, and she has loved her role as a sub in videos for the most popular bondage sites on the web. She explains that device bondage gives you the feeling of being completely trapped, with no room to move or even wiggle. Mistress MISSogyny demonstrates her prowess at lesbian device bondage, locking Sarah in position, arched backwards and unable to move her legs or her arms. There, MISSogyny toys with her, spanking her pussy, tormenting her nipples and prying her mouth open with a modified spider gag. Sarah struggles and tries to comply with her mistresss wishes, but MISSogyny is still not satisfied with her performance. She thrusts her magic wand vibrator against her slaves pussy to overwhelm her with orgasmic pleasure while pain shoots throughout the rest of her body.
Tori Lux & MISSogyny
February 26, 2014
Tori Lux is fast becoming one of Mistress MISSogynys favourite pain sluts. The sub pig loves pain and restraint and gets off on the total loss of freedom of movement in device bondage. MISSogyny locks her in a sitting position with her arms and legs splayed wide, allowing easy access to Toris upturned ass and big, puffy pussy. Mistress MISSogyny relishes her time in the dungeon with Tori, spanking and whipping her tender pussy, watching the lips become red and sensitive with pain and arousal. After spanking her ass and punishing her labia, MISSogyny allows Tori free use of her hands but only to fuck herself with a huge dildo and vibrator. Tori the slut does not disappoint, ramming the dildo into her pussy like a jackhammer and pounding out a thunderous orgasm. MISSogyny then rams her fist into Toris juicy pussy, declaring it her property and for her use only. This Lezdom bondage mistress has just claimed another prize in the device dungeon.
Latest Missogyny.com Updates